Trending
Top 7 Frankincense Essential Oils In India
100% Pure And Natural Frankincense Essential Oils

Frankincense essential oil is one of the most sought-after essential oils in the world. It's unique aroma and powerful therapeutic properties have made it a popular choice for aromatherapy and natural wellness. In India, frankincense essential oil has gained immense popularity in recent years due to its many health benefits and uses.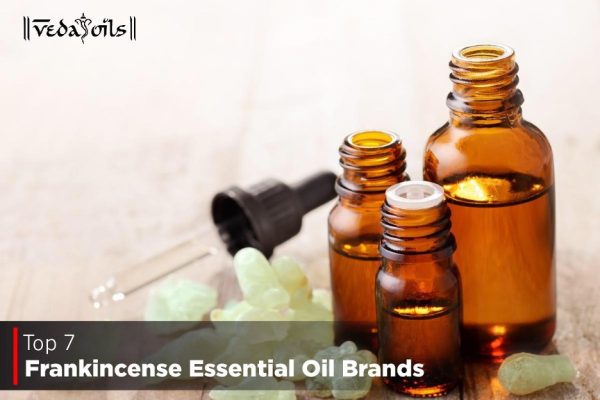 If you want to add frankincense essential oil to your collection, you're in luck! In this blog, we've compiled a list of India's top 7 best frankincense essential oils. Whether you're a seasoned essential oil user or a beginner, this list will help you find the perfect frankincense essential oil to meet your needs.
1. VedaOils 100% Pure And Natural Frankincense Essential Oils
VedaOils Frankincense Essential Oil is a premium quality essential oil extracted from the Boswellia tree's resin using steam distillation. This essential oil has a warm, spicy aroma that is calming and grounding, making it an excellent choice for aromatherapy and meditation. This essential oil is 100% pure and natural, with no synthetic additives or fillers. It is rich in natural compounds such as alpha-pinene, limonene, and myrcene, known for their therapeutic properties. These compounds give the oil its unique fragrance and also contribute to its healing benefits. Above all VedaOils offer its products in bulk at wholesale prices for big business.
VedaOils Frankincense Essential Oil has many benefits for the mind and body. It can help to reduce stress and anxiety, promote relaxation and calmness, and enhance mood. It is also known to have anti-inflammatory and pain-relieving properties, making it a popular choice for massage and skincare. This essential oil can be used in various ways, including aromatherapy, massage, and skincare. It blends well with other essential oils, such as lavender, lemon, and peppermint, making it a versatile addition to any aromatherapy routine. 
2. Naturalis Essence of Nature Frankincense Essential Oil
Naturalis Essence offers its best frankincense oil which is 100% pure and carries a strong scent that can be used in aromatherapy. Naturalis frankincense essential oil is derived from the "Gums of Frankincense Tree" using steam distillation. Frankincense essential oil by Naturalis essential oil is known for its anti-aging properties; it also effectively calms down redness and itchy skin while making it lighter and smoother.
3. Mesmara Frankincense Essential Oil
Mesmara offers its 100% pure, therapeutic grade essential oil, which has Deep, fresh, with subtle hints of citrus and camphor aroma, which will capture your thoughts. Mesmara is dedicated to offering its oil with the freshest smell, so Frankincense Essential Oil comes in an amber-colored glass bottle to block the light and keep the oil fresh. Mesmara frankincense oil has anti-bacterial properties, offering aromatherapeutic and topical benefits.
4. Vedic Bloom Frankincense Essential Oil
The earthy and sweet perfume of Vedic bloom frankincense oil improves mood by reducing stress and anxiety and increasing focus and memory. Diffuse a few drops to improve your meditation regimen and general health. This oil promotes natural hair care by reducing hair loss and increasing hair growth. It contains vitamin E, which aids in nourishing and strengthening hair from within. Mix a few drops into your daily shampoo or conditioner for thicker hair and a dandruff-free scalp.
5. Earth N Pure Frankincense Essential Oil (Loban Oil)
Earth N Pure doesn't offer frankincense essential oil; it offers a way of life. Earth N Pure's founder started
this brand to share the best quality frankincense with its consumers, so they can gift their friends and family the joy and bliss of living with natural aromas. Since it is rich in natural goodness, Earth N Pure Frankincense Oil helps to relax, nourish, and support the body and mind. It absorbs quickly into the skin and provides that absorbing brightness and shine. Frankincense Oil is also quickly immersed in the hair for a smoother and glossier look.
 6. Kalp Frankincense Essential oil
Kalp has focused on offering frankincense essential oil with an ideal and original aroma. You can use this essential oil to eliminate musty odors in your home. Furthermore, frankincense essential oil is excellent for use with fragrance diffusers. The perfume of Kalp Frankincense is citrus, tangy, and woody, and it is both soothing and relaxing for the mind and body. It is anti-inflammatory and anti-bacterial in nature.
 7. Kama Ayurveda Frankincense Essential Oil
Kama Ayurveda frankincense essential oil is extremely useful in healing skin redness, irritation, and swelling; dilute a few drops in your preferred carrier oil, such as Sweet Almond, Coconut, or Sesame. They activate the body's energy points. Both are calming to the mind and body and can aid with exhaustion, anxiety, nausea, and sleeplessness. Frankincense Essential Oil soothes the mind and is a beautiful essential oil for a good night's sleep.
Conclusion
Frankincense essential oil is a valuable addition to any essential oil collection. It's unique aroma and powerful therapeutic properties make it a popular choice for aromatherapy and natural wellness. For those looking for a high-quality, pure, natural frankincense essential oil, VedaOils is a reliable option. Their 100% pure and natural frankincense essential oil is an excellent choice for anyone looking to experience the benefits of this fantastic oil. 
FAQs On The Best Frankincense Essential Oils In India
Q1: Which Is The Best Brand For Essential Oils?
Ans: All the above brands offer amazing frankincense essential oil in India, so you can choose any of them. The aforementioned brands offer unique properties, but if you're looking for an all-rounder frankincense oil, choose VedaOils. Visit VedaOils.com and get discounts. 
Q2: What Is Essential Oil Used For?
Ans: Essential oils are commonly used for aromatherapy, massage therapy, and natural remedies for various physical and emotional ailments. They can also be used for household cleaning and personal care products.